Leader in Portugal and with a consolidated position in the ranking of auction houses, the brand LEILOSOC® Worldwide is currently present in 167 countries, spread across four geographic areas – Europe, Africa, America, and Asia.
Leilosoc®
With a market positioning following the values and cultural identity of the organization, it is based on a unique strategic vision and integrated as a component of Isegoria Capital, S.A., increasingly international, innovative and, competitive on a global scale.
As a market leader, it complies with the highest corporate standards regarding responsibility, transparency and, social performance.
It is the 1st company in the sector with a certified management system ISO 9001 – 2008 and also the 1st to transition to ISO 9001 – 2015 successfully.
LEILOSOC® Worldwide is licensed to carry out the Auction activity, with the General Directorate of Economic Activities, in line with Decree-Law No. 155/2015 of August 10th.
LEILOSOC® Worldwide is one of the founding members of the Portuguese Association of Auction Establishments – ApdEL, an organization created in 2017, based on defending the sector's interests.
+ 2,2 Million
USERS
+ 15.500
AUCTIONS
+ 18 Million
ViEWS
+ 150
COUNTRIES

The capital entrepreneurs need to make new investments, not infrequently, is within the company itself.
The strategic organization of companies can, after a few years, go through restructuring, remodelling and, selling assets to obtain liquidity, reduce costs and pave the way for new investments.
Renew your equipment and fleets and, reinvest capital in new assets. LEILOSOC® Worldwide makes available its Logistics Centres for parking equipment and vehicles for sale. Valuing your assets has never been so simple, fast and, comfortable.
We provide complete logistical support for assets
The LEILOSOC® Logistics Department plans, coordinates and, directs equipment removal and parking activities, also assuming responsibility for the function of direct sales and reception of equipment.
Logistics management is transversal to the entire national territory. The main collection centre is in the north of Portugal and has an area of over 25,000 square meters, with an auditorium prepared for holding auctions.
Full logistical support: removals, asset recovery, credit recovery, parking, storage, and direct sales.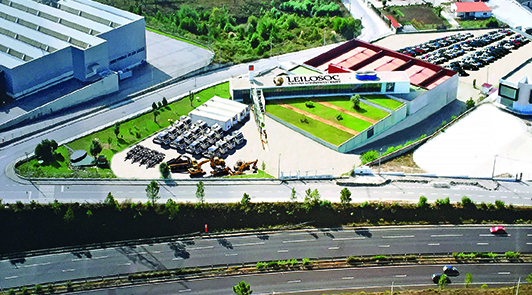 In LEILOSOC's® Worldwide track record, there are numerous company recovery processes, which can be achieved through selling companies (100% of the capital) quotas or holdings.
At the same time, a service is carried out to attract national and international investors who might be able to continue the company's activity or start functions in a new sector.
The possibility of a new economic cycle is created.
Leilosoc® action plan
Activities Workflow
Definition and Approval of Sales' Calendar